volusion Development 
Volusion is one of the oldest ecommerce website builders around. Created in 1999, it lets you pay the bills, without the creative frills.
Volusion was founded in Austin, Texas, by Kevin Sproles, and has been in business since 1999. Volusion provides a fully cloud-based ecommerce platform. The company offers all the basic functions needed to operate your own online store, as well as some features that set them apart from their main competitors. In this Volusion review, we'll talk about all the goods and bads.
Famous (past and present) Volusion clients include companies such as Intel, 3M, and Slickwraps. It has processed over 185 million orders for Volusion customers. Many consider Volusion to be one of the top ecommerce platforms, so read on to see what I think about the company's features.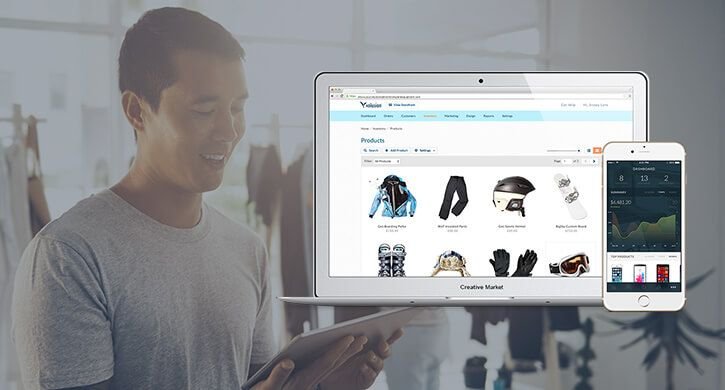 Main features of Volusion?
Online store and shopping cart.
Built-in

 

marketing

 

tools, such as SEO, coupons.
Social and mobile commerce included.
Hosting and security included.
Unlimited customer support.
Integrates with existing or new merchant accounts.
Accept PayPal™ and/or Google Checkout™
Ease of Use
The first time I entered the dashboard I was pretty impressed, the interface is clean and easy on the eyes. More importantly it is simple to navigate.
Volusion used to only have a few "get started" guides, but all of that has changed. Not only do you receive some awesome support videos in the dashboard, but the primary steps for building your site are highlighted in the main area. For example, you can click on buttons for choosing a design, uploading a logo and adding products.
Most other competitors such as BigCommerce and Shopify have a setup wizard; so Volusion is on-par with those now.
Furthermore, you constantly have an eye on the status of your website. Volusion offers several reports right on the dashboard. This way you can see if sales are going well and if anything needs to be changed. Other than that, you have direct access to buttons for orders, customers, inventory, marketing, design, reports and settings.
Version 2 of Volusion has added quite a few elements that make it easier for the user to get set up and selling online. The first benefit is the streamlined onboarding, where you're presented with a process for rapidly selecting themes, adding products, and launching your online store.
Dropshipping With Volusion
With the popularity of dropshipping, Volusion has responded to the call with a complete dropshipping integration system. The dropshipping app is completely free and lets you search for products to sell in a wide range of categories. I'm in love with this app, since all of the products are curated by Volusion, so you have a smaller chance of getting stuck with bad suppliers.
Also, the product selection seems to be quite large, meaning that you can decide on the type of store you want to run, or make a network of shops.
The Site Editor has also seen improvements with the Version 2 launch. Overall, it lets you make changes to your site on the fly, without having to rely on only your computer.
Along with enhanced image features and the ability to purchase your postage directly through Volusion, this Version 2 release is sure to be a big one for both users who craved more from the Volusion user interface, and the company itself.
Pricing
Previously, Volusion used to have 6 premium pricing plans to choose from.
Unfortunately, things have changed.
In September 2018, the business restructured to simplify its prices, and stay in line with some other competitors like BigCommerce and Shopify. While there's a 14 day free trial to get you started again, you'll have fewer options to choose from when you decide to splash your cash.
The four premium plans now start at a price of $29 per month for the "personal" plan and range all the way up to custom pricing with Volusion Prime.
One bit of good news about the updated Volusion pricing plan, is that it's quite a bit cheaper if you're willing to pau annually. In fact, you save 10% on annual plans.
Whether you choose to go for the annual or monthly package, here's what you can expect:
The Personal Plan:

 

The cheapest of Volusion's pricing plans is $29 per month. That gives you all of the essential features you need to jump into eCommerce, including secure payments and social media integrations. If you're just getting started online, selling products as a hobby, or flogging home-made goods, then the personal plan is fine for you. You won't be able to have more than 100 products listed on your store, so it's no good for bigger brands.
The Professional Plan:

 

At first glance, the Professional plan seems like quite a jump up from the personal plan. However, you do get a significant boost in features. For $79 per month, you can access a range of advanced features, including abandoned cart reports, phone orders, a CRM system and integrations with eBay or Amazon. If you need newsletters for your customers, or a review section for social proof, this is the plan for you.
The Business Plan:

 

If you really mean business, then you may need to upgrade even further, to the Business plan. This strategy can support stores that earn up to $500,000 per year in online sales. With the power to sell an unlimited number of products, this is crucial for any company looking to make a real profit. Features include everything from 3rd

 

party gateways, to deals of the day, and a dedicated success team.