Top Cryptocurrencies to invest in 2021: Potential & Cheap
Cryptocurrency is a virtual form of money and is decentralized which means no central authority or government is managing it. If you have cryptocurrency then it completely belongs to you, unlike paper currency. Before trading cryptocurrency you need to know that there are more than 10,000 cryptocurrencies in total so you have to understand which cryptocurrency you should invest in as it is risky but it is advisable to use your mind even while taking the risk so that the probability of your loss will be lower and you can hope for profit. If you are a beginner and want to invest then you must read this article and know about the potential yet cheap cryptocurrencies.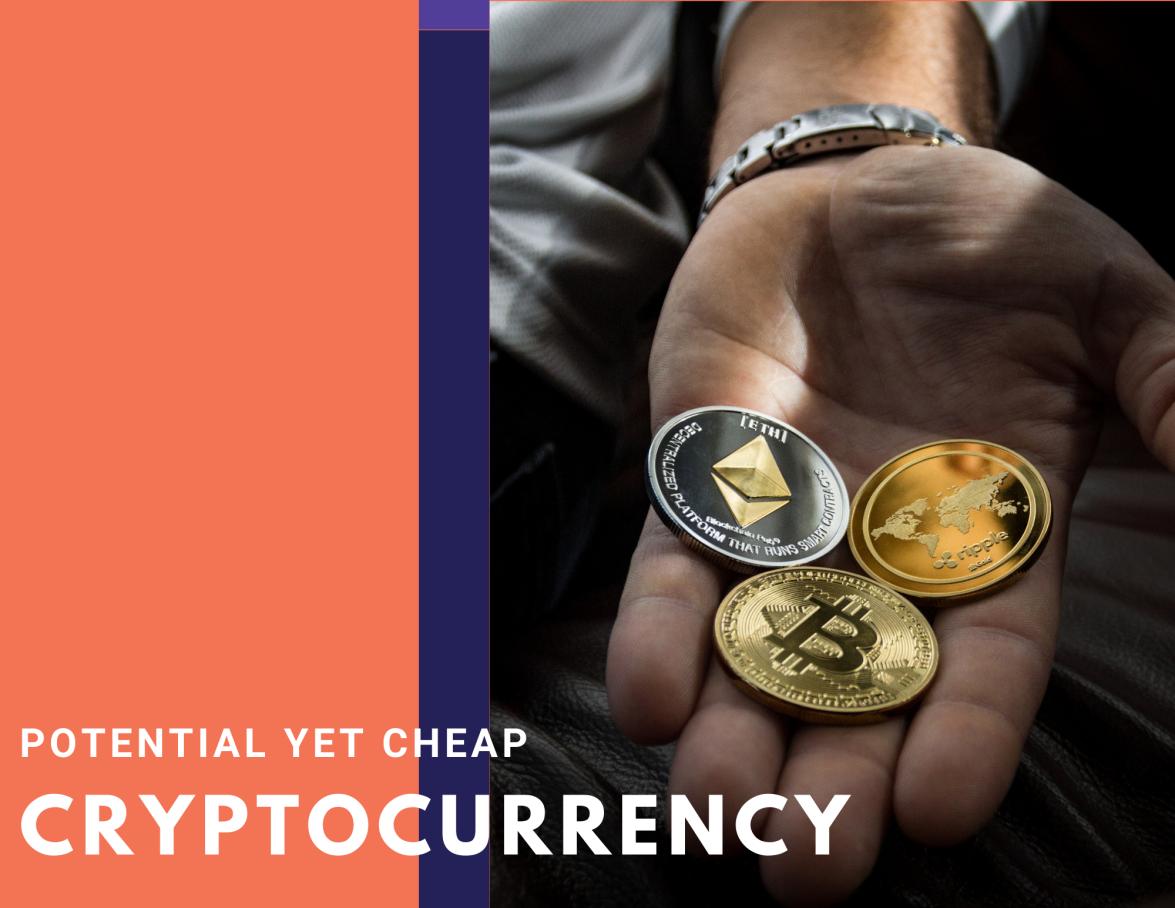 What is Cryptocurrency?
Cryptocurrency is a digital currency and is decentralized that means no interference or manipulations can be done by the Government or central authorities.
Cryptocurrency is based on Blockchain technology and is secured by cryptography that encrypts the data in coded language.
Why to invest on Cryptocurrency?
Cryptocurrency is emerging day by day various companies have even allowed cryptocurrency for payment and there's a huge rise in the value of cryptocurrency since 2020 and now 2021 you can see cryptocurrency in headlines.
It's the best time to invest in cryptocurrency as per experts value of cryptocurrency will increase in the upcoming days as it is most secure and soon it is supposed to be connected with Artificial Intelligence which will make it even safer.
The best part of cryptocurrencies is that you can buy them in parts so there is no such thing that you need too much money to buy cryptocurrency begin with a small part know more about it and then go for higher investments.
Most of the cryptocurrencies are based on Blockchain Technology so it is quite easy and convenient as your transactions will be transparent and easy to track.
And it is way too easy to trade cryptocurrency as there are numerous cryptocurrency exchange platforms just choose the best one and after KYC starts trading isn't is easy also you can track constant fluctuations in different cryptocurrencies as well.
Top Ten Cryptocurrencies to invest on : Potential & Cheap in 2021
1. Etherum:
Etherum holds second place among most popular cryptocurrencies. As an alternate payment method for international purchases, Ethereum is getting a lot of traction and appeal. The fundamental driver of this change is the increasing use of Ethereum by businesses and individuals for their regular financial transactions.
Cryptocurrency tokens are given to investors as a reward. Ether is the name given to these tokens (ETH). Ether, like Bitcoin, may be used to buy and trade goods and services. Its price has also risen rapidly in recent years, making it a popular investment. However, Ethereum is unique in that users may create apps that "run" on the blockchain.
2. Cardano(ADA):
Cardano (ADA) is the cryptocurrency that is considered best to invest on for beginners as it is cheap yet potential.
Cardano is a third-generation cryptocurrency with an internal cryptocurrency token known as ADA, it is considered the most as in crypto choices. Cardano aims to create a fully functional blockchain environment akin to Ethereum, which is utilised for a wide range of transactions.
 Cardano also features a fast, scalable network, low-cost transactions, a strong development team, and very soon it will be completing decentralisation.
3. VeChain(VeT):
VeChain and the VeChain Coin were founded by Sunny Lui as a reliable option for creating a decentralised infrastructure of data management.
VeChain has two types of tokens, VeChain Token (VET) and VeThor Token (VTHO). VTHO is required for smart contract and transaction executions. 
VeChain is endorsed by PwC, a leading auditing firm, and is worth considering as a low-cost cryptocurrency to invest in.
4.Chainlink:
A huge open-source community of data producers, contract developers, researchers, auditors, and others power the Chainlink Network. The company is focused on guaranteeing that all node operators and users that want to contribute to the network have decentralised participation.
Chainlink enables blockchains to securely communicate with external data feeds, events, and payment mechanisms, enabling complicated smart contracts to become the dominant form of digital agreement by delivering important off-chain information.
5. Ripple:
Developers and entrepreneurs can use Ripple's open source developer platform to create real-world payment solutions on the XRP Ledger.
The cryptocurrency's token, XRP, is premined and has the ticker sign XRP. The company and network are known as Ripple, and the cryptocurrency coin is known as XRP. The goal of XRP is to act as a form of temporary settlement layer denomination, acting as an intermediary mechanism of exchange between two networks.
6. Dogecoin:
DOGE is the cryptocurrency that received a lot of attention early this year owing to Elon Musk. Dogecoin has a long and intricate history, but the brief version is that it began as a meme coin in 2013. Nobody expected it would endure its status as a joke, survive in the very competitive crypto market for the next eight years, and even temporarily join the top ten cryptocurrencies in 2021.
Dogecoin is one of the best-performing coins, despite its low price, and as such, it has the potential to be a wonderful investment.
7. QuantStamp:
QuantStamp is known as the first measureable security-audit protocol made to trace the security loopholes in making Ethereum smart contracts. Cryptocurrencies and blockchains are always having a fear of hackers such as in the case of DAO attack in 2016 in which 3.6 million ETH were stolen by hackers.
8. Uniswap:
The world's largest decentralised exchange, also known as Uniswap, uses the UNI coin as its native currency. The exchange was founded as part of the rapidly growing DeFi industry, and its coin has only been in circulation since mid 2020.
Uniswap just became the first decentralised exchange to offer trading with  margin trading.
9. Zilliqa:
Zilliqa is a  mining-based cryptocurrency, which uses an algorithm to promote network scalability, automatically increases transaction rate as the number of miners increases.
It includes smart contracts written in Scilla, the platform's own programming language.
Conclusion:
Now is the time when you should invest on cryptocurrency though you can take advice from any other investor for better understanding and be ready to take risks but always remember high risk is equal to high profit.
Navigate to this 
page
 for more details about this new blog.