Salesforce is a cloud-based customer relationship management (CRM) platform that helps organizations manage their customer relationships and streamline various business processes.
Salesforce allows businesses to keep track of their customers and manage information related to contacts, accounts, and leads.
It helps organizations track and manage sales opportunities, including the stages of the sales process.
Salesforce is highly customizable. Businesses can create custom objects, fields, and workflows to tailor the platform to their specific needs.
The point-and-click interface allows users to configure the system without extensive coding.

Salesforce's AppExchange is a marketplace for third-party applications. Users can extend the functionality of Salesforce by installing apps developed by other companies or developers.
What is Salesforce and Why Would You Want It?
Faster. Cheaper. Easier. Better. Salesforce takes your business to the next level. Salesforce's customer relationship management software instantly streamlines and automates your business processes. By creating infrastructure-as-a-service, your business allows sales, marketing, and support teams to work in sync and see important sales and customer data with more width and breadth, freeing them up to generate new clients and better service existing ones.
Here's what makes Salesforce the world's #1 CRM.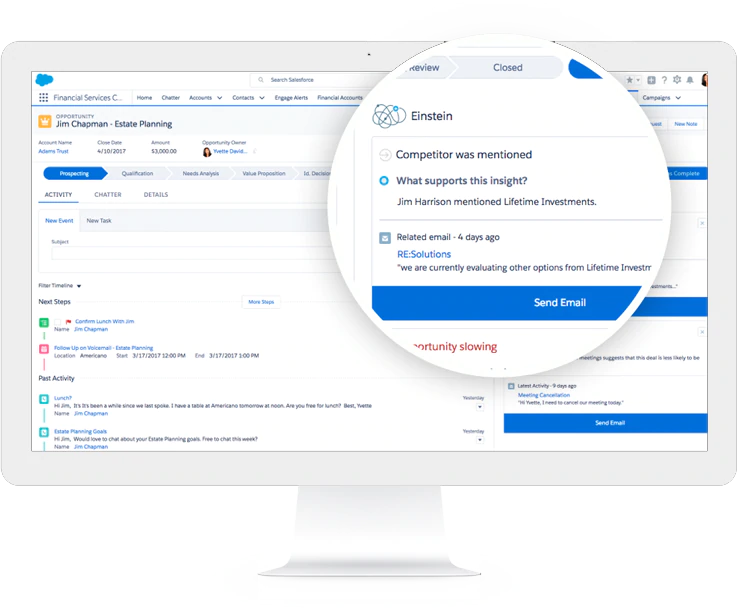 Move deals faster by tracking customer information and interactions in one place
Make more insightful decisions — faster, and from anywhere — with the most up-to-date information
Drive customer engagement by automating and personalising your email marketing at scale
24/7 customer support team to help all users from Small business to Enterprise