In the realm of digital marketing, ClickFunnels stands out for its exceptional features. The drag-and-drop editor allows users to customize every aspect of their pages effortlessly. With conversion-optimized templates, businesses can create aesthetically pleasing and high-converting landing pages, saving valuable time and resources. The automation capabilities of ClickFunnels are a game-changer, enabling marketers to set up email sequences, follow-ups, and more, enhancing lead nurturing and ultimately boosting conversions.
Key Features:
Drag-and-Drop Editor: The intuitive drag-and-drop editor in ClickFunnels empowers users to build landing pages and sales funnels with unparalleled ease. No coding skills are required, making it accessible to marketers of all levels. Customize every element of your pages, from headlines to images, ensuring a seamless representation of your brand. The real-time editing feature allows you to see changes instantly, facilitating a quick and efficient design process.
Conversion-Optimized Templates: ClickFunnels offers a diverse array of templates, each meticulously crafted and optimized for specific industries. Whether you're in e-commerce, consulting, or lead generation, you can choose a template that aligns with your business goals. These templates aren't just visually appealing; they are strategically designed to maximize conversion rates, providing a solid foundation for your marketing campaigns.
Automation: The automation capabilities of ClickFunnels revolutionize how businesses manage their sales processes. Implement automation to streamline repetitive tasks, such as sending follow-up emails, tracking customer interactions, and segmenting leads based on their behavior. The platform's automation features not only save time but also ensure a personalized and timely approach to lead nurturing, increasing the likelihood of conversions.
What is ClickFunnels?
ClickFunnels is a comprehensive sales funnel builder designed to simplify the process of creating and optimizing marketing funnels. Founded by Russell Brunson in 2014, it has quickly become a go-to platform for businesses and marketers seeking an all-in-one solution for their online sales and marketing needs.
At its core, ClickFunnels is a tool that allows users to design, build, and launch sales funnels without the need for extensive technical knowledge. A sales funnel is a series of steps that guide potential customers through a buying journey, from awareness to conversion. ClickFunnels streamlines this process by offering a user-friendly drag-and-drop editor, enabling users to create landing pages, sales pages, and entire funnels with ease.
What are the advantages of Click Funnels?
Advantages of ClickFunnels:
All-in-One Solution: One of the primary advantages of ClickFunnels is its all-in-one approach. It consolidates various tools and features essential for online marketing and sales funnel creation. Instead of juggling multiple platforms, users can access everything they need within ClickFunnels, from landing page creation to email marketing and automation.
User-Friendly Interface: ClickFunnels prides itself on a user-friendly interface that caters to both beginners and experienced marketers. The drag-and-drop editor simplifies the design process, allowing users to create professional-looking pages without any coding expertise. This accessibility is crucial for businesses aiming to swiftly implement and iterate on their marketing strategies.
Conversion-Optimized Templates: The platform offers a diverse library of templates, each optimized for specific conversion goals. These templates not only save time but also serve as proven starting points for designing effective sales funnels. Whether you're selling products, generating leads, or hosting webinars, ClickFunnels provides templates tailored to your objectives.
Powerful Automation: ClickFunnels excels in automation, enabling users to set up complex workflows and sequences. Automate email campaigns, follow-ups, and even segment leads based on their interactions. This not only saves time but ensures that leads receive timely and personalized communication, increasing the likelihood of conversions.
Analytics and Split Testing: Analytics are crucial for refining marketing strategies, and ClickFunnels integrates robust analytics tools. Users can track visitor behavior, conversion rates, and other key metrics. Additionally, the platform supports split testing, allowing users to experiment with different elements of their funnels to optimize for the best performance.
Community and Support: ClickFunnels has a vibrant and active community of users. The platform provides extensive educational resources, including tutorials, webinars, and forums. Users can tap into this community for insights, tips, and troubleshooting, creating a supportive environment for both beginners and experienced marketers.
Generate More Leads:
ClickFunnels makes it easier for entrepreneurs to get leads and generate traffic.
Squeeze page funnels can be used to generate email leads or to add people to a messaging list.
Application funnels are used to obtain contact information from prospects.
You'll be able to easily design high-converting lead funnels that transform a complete stranger into a valuable customer.
Encourages More Product Selling
Encourages More Product Selling with ClickFunnels:
Strategic Funnel Design: ClickFunnels empowers businesses to create strategically designed sales funnels that guide potential customers through a seamless journey. By carefully structuring the funnel, businesses can highlight product features, benefits, and compelling calls-to-action at each stage, increasing the likelihood of conversions.
High-Converting Landing Pages: The platform's drag-and-drop editor and conversion-optimized templates play a pivotal role in creating high-converting landing pages. Businesses can showcase their products with visually appealing layouts and compelling copy, capturing the attention of visitors and driving them towards making a purchase.
Order Bumps and Upsells: ClickFunnels facilitates the implementation of order bumps and upsells within the sales funnel. Order bumps are additional offers presented at the point of purchase, while upsells encourage customers to consider higher-value products. These features capitalize on the buying momentum, leading to increased average transaction values and overall revenue.
Automation for Follow-Up Sales: The automation capabilities of ClickFunnels extend to post-purchase engagement. Automated email sequences and follow-up communications can be configured to recommend related products, announce special offers, or gather feedback. This continuous engagement keeps customers in the sales loop, fostering brand loyalty and encouraging repeat purchases.
Integrated Payment Gateways: ClickFunnels integrates seamlessly with various payment gateways, providing a smooth and secure transaction process for customers. A frictionless purchasing experience, coupled with strategically placed product offers, enhances the chances of successful sales and customer satisfaction.
Split Testing for Optimization: Businesses can utilize ClickFunnels' split testing features to experiment with different product presentation strategies. By testing variations in product descriptions, images, or pricing structures, businesses can identify the most effective approaches for driving sales and optimizing their funnels for better performance.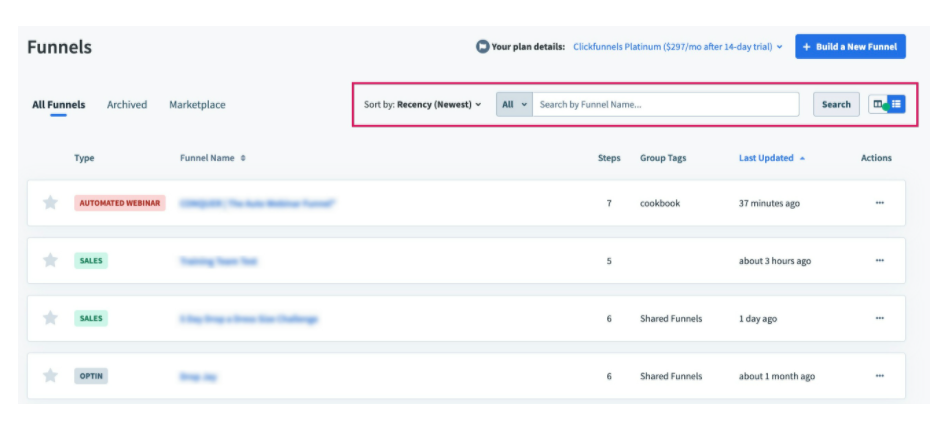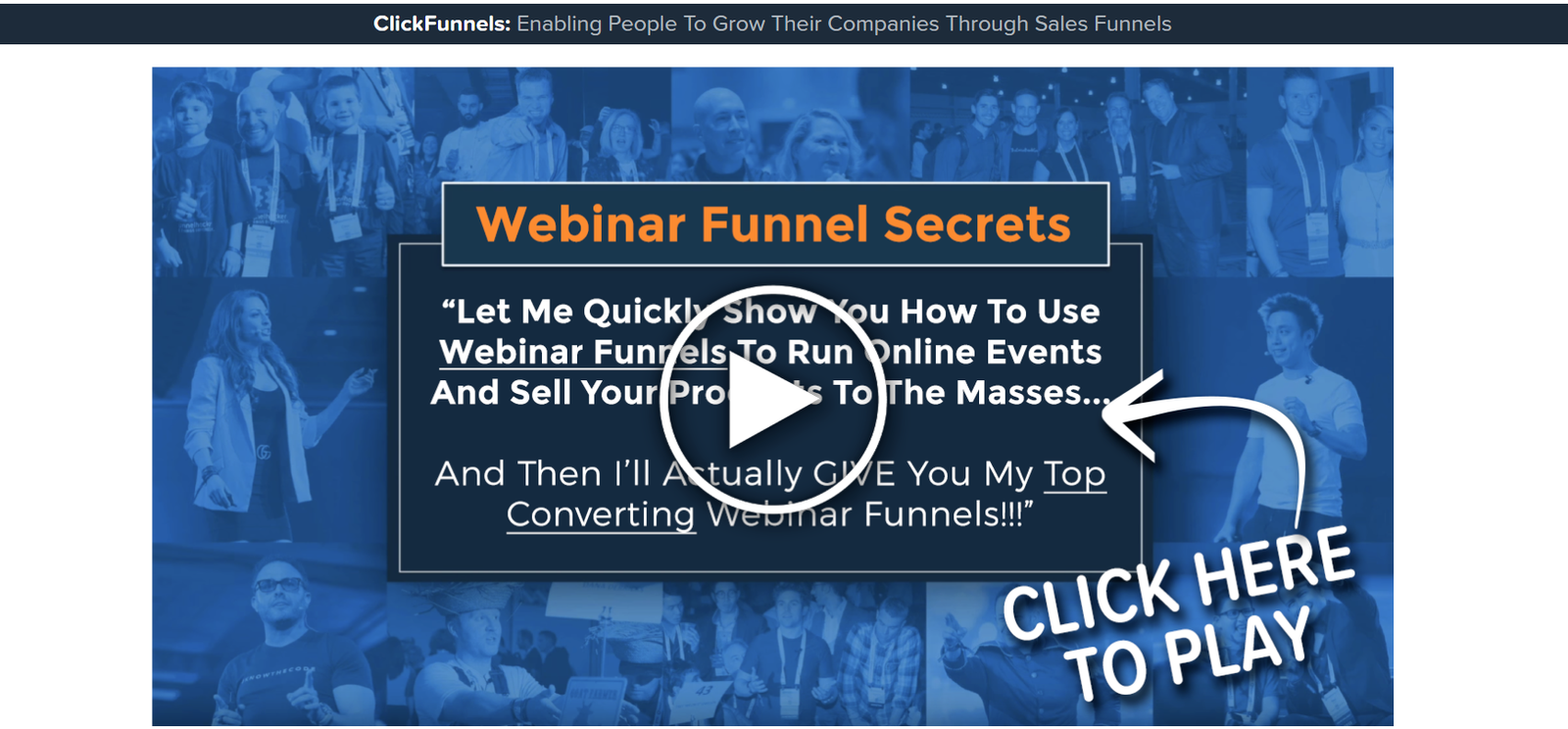 A webinar funnel is a marketing and sales technique that may convert visitors into leads and leads into purchasers automatically. To get the right people to the webinar registration page, you can employ inbound or outbound marketing methods. The webinar funnel's objective is to produce leads and sales.
Work of ClickFunnels ?
ClickFunnels has a lot to offer, whether you're trying to promote your blog or start an online store.
It will not only assist you in connecting with your end-user, but it will also assist you in developing funnels and websites for your employees, investors, clients, and suppliers.
ClickFunnels is a simple tool for building e-learning and training funnels.
Click Funnels function by providing a series of "calls to action" that a visitor responds to. Email subscription boxes, free content and e-book download buttons, and a number of other items are examples of these.
You start promoting a service or product above the fold, with the call to action, as a visitor lands on your page or funnel. Your user will be more likely to perform the action if it's above the fold.